Hot wound springs are the most labor intensive springs on the market. Coiled springs made from bar material ranging in size from 0.437"-4.00" diameter are hot wound, quenched and tempered. Suhm Spring Works now has the capacity to coil up to 4.00" bar in a wide array of varying sizes to suit your needs.
Suhm has recently increased our commitment to providing quality hot wound springs.
We expanded our coiling capabilities from a 2.875" maximum bar diameter to a 4.00" maximum bar diameter. In addition to our increased bar diameter capabilities of hot wound springs, we also have the capacity to coil up to a 36" outside coil diameter and a 70" inch overall free length. With our decades of knowledge, and state of the art equipment, our hot winding capabilities are incomparable in flexibility and quality for whatever size fits your needs.
Suhm's rich history in custom spring design and manufacturing carries over into our hot wound department. We have an experienced and knowledgeable support staff to help design the perfect spring to fit your needs. We carry a variety of standard bar sizes, but if you need a non- standard bar size, we can center-less grind our material to the desired size. Suhm offers quick turnaround service for orders that need to be expedited and flexible quantity ordering to fit your precise needs. We strive to set ourselves apart from our competitors in many ways, and one of those ways is helping you find a desired solution to your spring problem.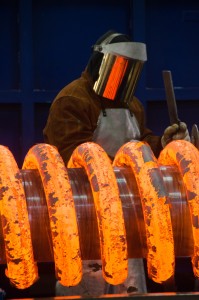 When dealing with heavy duty industrial equipment, it is vital to assure a safe and consistent product. Suhm Spring Works has made it our priority to provide as many in-house quality assurance checks as possible. We have a brand new state of the art load tester that is capable of checking loads with precision up to 250,000 lbs of force.
We are also capable of cycle testing the largest hot wound springs on the market. Beyond quality of coiling, we can also assure material, coating, and testing is to your spec. We have state of the art non destructive examination equipment that allows us an in house ability to magnetic particle and liquid penetrant inspect. Our technicians, and in house engineer, can help to assist with finite element analysis for extra assurance in performance. Quality assurance and traceability of the product are staples of our process.
If you want your project done accurately and precisely, Suhm can hot wind the best quality springs available anywhere in the world. With unsurpassed experience, state of the art equipment and flexibility, Suhm Spring Works can work with you every step of the way to accommodate all your hot wound coil spring, inconel springs or any other spring needs.