Inconel materials are very useful and can be used in many cases where other spring materials would fail. This material is a nickel based product and has multiple grades.
Each grade is designed to offer some form of specialized corrosive resistance to anything from acids, salts, seawater, and resistance to chloride cracking.
Inconel springs are heat treated after forming. After heat treatment, Inconel X750 will form an oxide coating. This oxide surface is beneficial in many corrosive environments and it does not have to be removed.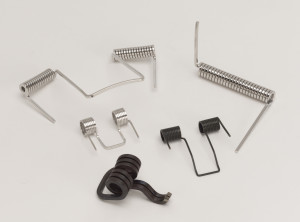 Inconel is also capable of working in high temperatures, where other materials would yield. Different grades of Inconel can be heat treated to withstand very high temperature applications up to 1100 degree F.
If designed properly, springs will operate in these high temperature ranges. Inconel can also be used in extremely low temperature environments as well.
Inconel materials not only have corrosive value but also offer a reasonably high tensile property. This allows the spring designer to solve a customers' corrosion challenge and keep the spring close to the same size as a normal alloy spring.
Some grades of Inconel offer higher tensile properties in elevated temperature applications than others, so a call to your sales representative would be recommended.
Inconel materials are used in a wide variety of markets.
Inconel springs are used in the gas turbines, aerospace, chemical processing, industrial heating, nuclear, and heat treating to name a few.
The oil and gas industry consumes a large amount of nickel materials including Inconel X750. There are several nickel based materials that are recognized by NACE for use in downhole Spring applications.
Elgiloy (nickel), MP35N (nickel), and Inconel X750 are three spring materials that are readily available. Inconel materials are also used in saltwater environments, both subsea and surface.
Inconel is a very versatile material and cannot be replaced in many circumstances. This material does deserve consideration when designing springs.
The actual dollar cost of this material is not small, but when a part has to perform in a corrosive atmosphere, this is one to consider.
Contact us today to learn how we can produce high quality, custom compression springs for your business.